A & P Mechanical Bulls is the leader in hydraulic mechanical bulls. You can use our bulls to help you train for professional bull riding, Exercising, or just plain having a good ol' time for guys and gals alike. We now offer a new minature bull that runs on a mere 110 volt, 20 AMP breaker. 1/2 of the required 220 volt larger bulls. Created mainly for younger riders this bull will take a rider up to 180 lbs. We here at A & P Mechanical Bulls pride ourselves on our bulls alike for many reasons. Some of which we've listed below. Our main goal is of coarse the safest, best experience you can get out of riding a Mechanical Bull.



How it's done, from A to Z.



We start off by Padding the body of the bull with a dense, specially designed foam. It is three inches thick and covered with real bull hide (not some of those cheap imitation ones you find out there). This makes the ride more realistic than the ones made from synthetics.

For safety we've placed a baffled air bag of any shape or size you should need and perfectly flat to soften your landing should you happen to get thrown. The design is set to protect a rider up to 250 pounds. The bull is NOT to be operated without the air bag properly filled and in place. The air bag is run with a constant high pressure direct drive air blower putting 680 C.F.M. This Mat must be securely in place for proper use.

The Mechanics are all Hydraulic. Pressures are run at a preset range for safety and performance. Electricals are set at U.L. code and inspected. All bulls have been stress tested and meet or exceed all specifications for California rides and amusements as well as meeting any and all O.S.H.A. Standards.

The bull must be run and trained by a competent controller. NO alcohol or drugs may be in use when operating the bull. Controller/Operator must be completely free from obstacles. NO people or other items may obscure their view to maintain safety protocol. Lighting also must be proficient that he/she has full sence of awareness during the ride.

A complete inspection of the bull should be done on a daily basis to assure a hazard free ride for everyone using the bull.



What To Expect When You Buy A Bull



DELIVERY: A & P Mechanical Bulls will deliver machine to purchaser in a timely manner upon purchase date.

SETUP/INSTALLATION: A & P Mechanical Bulls will properly set up and install machine upon date of delivery.

TRAINING: A & P Mechanical Bulls will give instructions and proper training to authorized personel of purchaser.

WARRANTY: A & P Mechanical Bulls will cover a six-month warranty on any new machine purchased.



We provide other mechanical bull services too!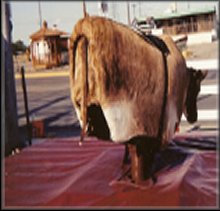 *Sales
(Buy one for your location)

*Rentals
(Rent one for a special occasion)

*Parties
(They make GREAT party entertainment!)

*Demos






* indicates a required field